John Swift – Managing Director
E-mail: [email protected]
John has over 25 years of foundry experience; he began his career at Barton Aluminium then spent 15 years at BSK Aluminium as Technical Director working alongside Tony Sartorius. He is highly skilled in foundry design, development and manufacturing techniques. He has a proven track record of successfully managing foundry operations and is well respected in the industry having held senior roles at Triplex and Bridge Aluminium. He is a qualified member of the British Foundry Institute and an Incorporate Engineer.  John is also a fellow of the Institute of cast metals engineers.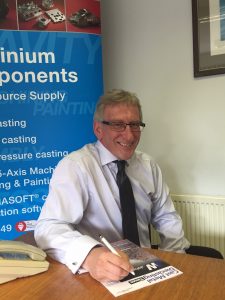 John Wiggins – Commercial Director
E-mail: [email protected]
With over 40 years' experience in the manufacturing business including Brasway, Tarmac and Schindler, John covers the financial and commercial work at Alucast.  Qualified as an ACMA in 1987, he has been at Alucast since 2008.